Thursday, 07 January 2010
At the moment, our best solution for network coverage to multiple buildings is wireless. I have been planning out various solutions to improve our system (fiber optics, dslam, or a better wireless setup) but wanted to share what we have now and how well it has worked in this particular area of our property.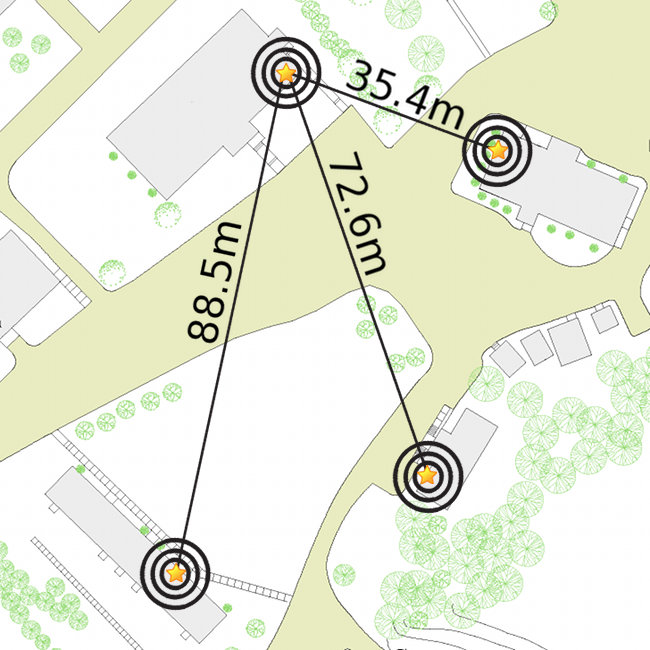 The image above shows the main buildings that are being linked. The main router sits in an upstairs window and is a:
Linksys WRT300N
It runs DD-WRT V24 – SP2 (Beta) with original antennas and has the following properties set (among others, these are the interesting ones).
Wireless – Basic Settings:
Mode: AP
Network Mode: BG-Mixed
Channel: 11 – 2.462 GHz
SSID Brodcast: Enable
Wireless – Advanced Settings:
Wireless – Security:
Security Mode: WEP (I haven't tested WPA2 with WDS yet, and I understand that WEP can be cracked easily)
Wireless – WDS:
The three router's MAC addresses are filled in, and are set to "LAN"
The three client WDS routers are also sitting in windows, and are on the first level of the buildings that they are in. They repeat the same SSID, and run on channel 11.
Buffalo WLI-TX4-G54HP
Originally purchased as an ethernet bridge, it is now running DD-WRT V24 – SP2 (Beta)
Replaced the stock antenna with a 9 dBi omni-directional
Is on the 72.6m link
(2) Belkin F5D7230-4 routers
WDS on the stock firmware works with DD-WRT, sweet!
These are unmodified, running with their tiny fixed (two) omni-directional antennas
One is on the 35.4m link, and the other on the 88.5m link
This setup has been going for weeks without an issue, and has served upwards of six families, a two person office, a fifteen to twenty person office, and a classroom with sixteen students.
We have other areas on the same property that have wireless access between buildings, but are nowhere near as complete as this arrangement. If we do end up using wireless to unify the property's networks, then I will start looking into site to site links, multiple gateways, OLSR, and other mesh technologies. I have my doubts as to how well WDS scales. Has anyone had positive results with professional mesh solutions built on DD-WRT and Linksys hardware?
---