Friday, 14 February 2014
After finding Tasker for Android and realizing all of the potential it has, I had to try it out. To begin, I decided to build a prototype backend service for receiving the location signals sent from the app itself. The possibilities seemed endless. As the website states:
Tasker is an application for Android which performs tasks (sets of actions) based on contexts (application, time, date, location, event, gesture) in user-defined profiles or in clickable or timer home screen widgets.
What I came up with isn't nearly as robust as something like Android Device Manager or services like Google+ location sharing, but it did allow me to think through the ins and outs of implementing products like these. The project requires:
Tasker
A web server that can run PHP 5.4 code
A terminal that can run PHP CLI 5.4 code
The sending portion involves thoroughly understanding the location intricacies of Tasker, and a basic idea of how it works. I configured it as shown in the following images:
The receiving portion is setup by checking out and building the git repository, as well as configuring hosting for public/index.php.
git clone https://github.com/kherrick/tracking
cd tracking/
bin/build.sh
If everything is in place properly when Tasker posts to the service, the data can be stored in an sqlite database or a simple log file.
DT:4-15-2011_11.12@BATT:13,SMSRF:+15558675309,LOC:32.2000000,-64.4500000,LOCACC:49,LOCALT:165.3000030517578,LOCSPD:0.0,LOCTMS:1458423011,LOCN:32.2000000,-64.4500000,LOCNACC:101,LOCNTMS:1458423011,CELLID:GSM:10081.13345030,CELLSIG:4,CELLSRV:service
DT:4-15-2011_11.14@BATT:12,SMSRF:+15558675309,LOC:18.5000000,-66.9000000,LOCACC:49,LOCALT:165.3000030517578,LOCSPD:0.0,LOCTMS:1458423021,LOCN:18.5000000,-66.9000000,LOCNACC:101,LOCNTMS:1458423021,CELLID:GSM:11172.24255141,CELLSIG:4,CELLSRV:service
The final piece is to generate the output from the data stored. When tracker.php is executed on the command line, the help page is displayed showing the available arguments.
$ ./tracker.php
Tracker version .001

Usage:
  [options] command [arguments]

Options:
  --help           -h Display this help message.
  --quiet          -q Do not output any message.
  --verbose        -v|vv|vvv Increase the verbosity of messages: 1 for normal output, 2 for more verbose output and 3 for debug
  --version        -V Display this application version.
  --ansi              Force ANSI output.
  --no-ansi           Disable ANSI output.
  --no-interaction -n Do not ask any interactive question.

Available commands:
  help   Displays help for a command
  list   Lists commands
  map    Generate a Google static map URL.
In this version, the main command "map" parses through the included demo log file and returns a URL for a static map from Google, with location points marked.
$ ./tracker.php map -l logs/YYYY-MM-DD_post_capture_DOT_log
Processing...
http://maps.googleapis.com/maps/api/staticmap?size=640x640&;zoom=4&;sensor=false&;markers=32.2000000,-64.4500000|18.5000000,-66.9000000|25.4800000,-80.1800000|32.2000000,-64.4500000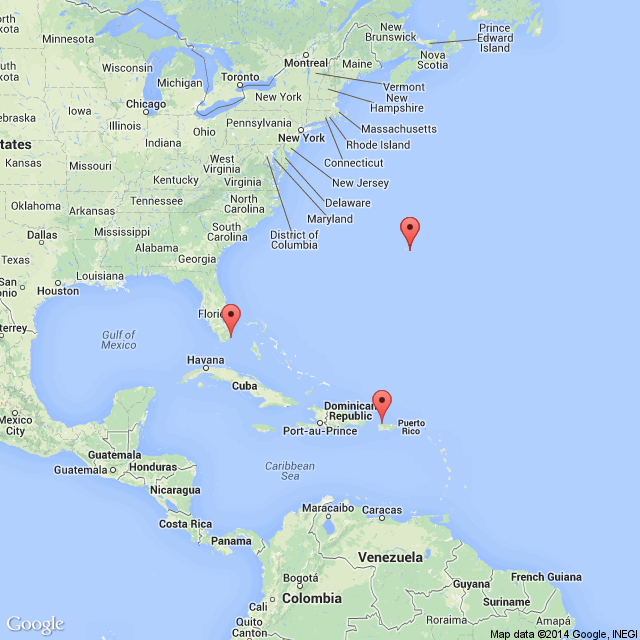 ---